Boohle drags Cassper Nyovest in the mud over hit song, Siyathandana, as she claimed the rapper didn't write the song.
The two collaborated on one of the biggest Amapiano song in SA, which was produced by Abidoza.
The song is owned by Mufasa, and the two vocalists' effort on the song was highly appreciated.
After the release of the song, Cassper said he own and wrote the song.
"Yall do know that's my song right? Like I am not featured on the song, I wrote it. The melody that Boohle is singing was written by me. Like I made the song with Abidoza before Boohle blessed it and took it out of the roof. Y'all pretending I asked to be on the song or I bought it. Lol," he said.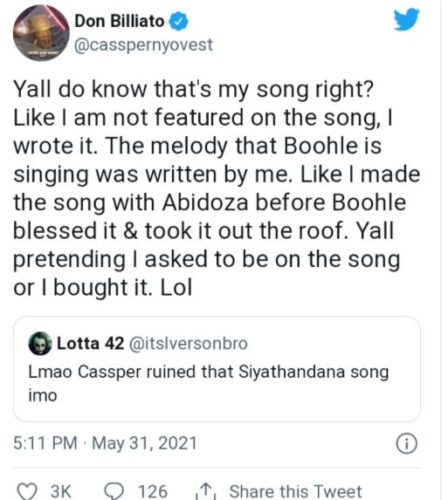 However, in a recent interview on Mac G's podcast and chill, Boohle who was the guest on the show opened up on how Cassper didn't do much on the song.
According to the vocalist, the rapper just came with his verse and she wasn't even there.
The two other persons on the show took Boohle's words and decided to mock the rapper, saying he shouldn't have been on the song.
Her claim got her topping social media trend list, as there's been mixed reviews over her statement.
Wait what?  so the song "Siyamthanda" Cassper ft Boohle wasn't written by Cassper  #PodcastandChillwithMacG pic.twitter.com/dzrsKkpVRV

— Simtho Biyela  (@SimthoBiyela) September 15, 2021
I feel so disappointed hle, ka Boohle  or is it because I always take Cassper Nyovest's side… pic.twitter.com/7um1R0CiPT

— Hosi_Tsakie  (@hosi_tsaki) September 16, 2021
At this point she realised she fu**d up Boohle #boohle pic.twitter.com/KpfAh2YS8H

— Mrs Dee (@DeTshepisho) September 16, 2021
How the hell does Boohle think features work? She wrote her part and Cassper wrote his. She's even credited on the goddam song!

— Bibo Zulu (@Bibo_George) September 16, 2021
Boohle could've given MacG almost the same reaction he got from Big Zulu when he said Ricky's verse wasn't needed. Nothing wrong with her answer but showing respect to artist you collaborated with instead of clout is a way to go. #podcastandchillwithmacg

— Rushman Tomolo (@RushNdoda) September 16, 2021
I feel like Boohle needs to not answer everything. Being that blunt about certain people in the industry will get her blocked before she takes off higher than she already has.

My opinion.
#podcastandchillwithmacg

— TrinMozé (@TrinMoze) September 15, 2021
This was so unnecessary, how do you say Cass verse was unnecessary when is the only verse that you hear people sing everywhere you go… Boohle is great, she kills every feature but let us stop being unnecessary Cass played the part, to even think of Boohle, it was genius.. https://t.co/1vMlNMTWuR

— WealthIsMyPortion (@PaulKaraboRamah) September 15, 2021